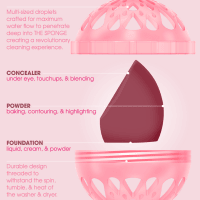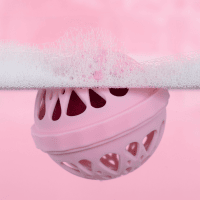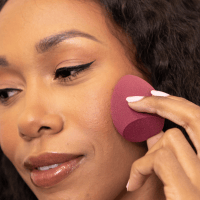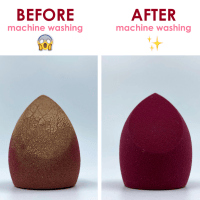 The 'Original' MakeUp Eraser The Sponge
$30.00
FIRST EVER MACHINE WASHABLE MAKEUP SPONGE!
THE SPONGE is specially formulated using the same unique "WashTech" technology as The Original MakeUp Eraser to erase makeup out of your sponge by simple machine washing.
Dab or glide to apply foundation, concealer, contour, bronzer, highlighter, & more. Different angles for different purposes. Glide or swipe in circular motions to create a brush-like finish. Dab to create the iconic sponge-like finish.
✓ machine washable
✓ reusable
✓ lasts 2x longer than other sponges
✓ no special cleansers
✓ wet or dry application
Uniquely designed to be non-absorbent, consequently wasting less of your makeup! Use wet or dry. The wet sponge will expand in size to create a sheer finish. The dryer your sponge, the fuller the coverage.
Includes 1 makeup sponge & 1 washball
In stock
Save $$ When Buying The Perfect Match
Set includes:
1 makeup sponge & 1 washball
Crafted to last 2x longer than other sponges and blenders.
| | |
| --- | --- |
| Brand | The 'Original' MakeUp Eraser |
About The 'Original' MakeUp Eraser
The 'Original' MakeUp Eraser is a global brand and selling in some of the largest retailers in the world.  The mission is about eliminating waste and being sustainable. The Original MakeUp Eraser is dedicated to creating the most sustainable makeup removal product in the world by using only the most accessible resource available: WATER. We truly believe we can eliminate the 3rd most wasteful product in the world: WIPES.  1.3 billion wipes are used daily Takes 100 years for a makeup wipe to breakdown 3600 wipes is equal to one MakeUp Eraser
Free of alcohol, oils, astringents, parabens, fragrances, & sulfates. 100% Polyester. The MakeUp Eraser is simple to use with effective results! Wet Soak with warm water. The warmer, the wetter, the better! Erase Use the short fiber side to erase makeup in gentle circular motions. Exfoliate Flip to long fiber side (side with tag) to exfoliate the skin.
FREE shipping only for Algologie, Fleur De Mer, Sincerity spend $90+
FREE shipping for all other products and brands store wide spend $60+
Trackable shipping when spending below minimum $7.95
Express trackable when spending below minimum $10.95
When spending the minimum Express costs $5.95
This product will dispatch same day if you place your order before 3.00pm Monday-Friday. Weekend orders get dispatched Monday
All deliveries are sent from Sydney with Australia Posts tracking service. Estimated time frame of 2-7 days (some remote areas can take longer)
More Information on shipping please click here
There is no returns or refunds for change of mind