Algologie – The leading natural marine skin care range from France.
Algologie skincare are paraben-free, silicon-free, mineral oil-free, phthalate and propylene glycol-free and at least 95 % natural.
Not tested on animals.
With its philosophy to maintain beauty, preserve youthfulness and improve wellbeing, Algologie brings us natural skin care products and treatments derived from the sea.
A pristine marine environment on the Pen Lan Peninsula in Northern Brittany, France provides the most optimal climate and water environment for seaweed to thrive. This unique biotope was specifically chosen by Algologie more than 30 years ago. Protected from harmful pollution, more than 650 species of seaweed grow in seawater rich in vitamins, protein, minerals, trace elements and antibacterial properties.
Algologie works with the most advanced source of research and development. Their laboratory is located beside the Center for Education and Valorisation of Seaweed (CEVA), a government supervised resource for all industries involved with seaweed products. This location enables Algologie to have access to information and participate in projects in search of innovations in the cosmetic and skin and spa industry.
Why Seaweed?
Seaweed contains an abundance of components and nutrients with more than 40 active marine ingredients including, minerals, trace elements, protein, vitamins and essential fatty acids including omega oils – mucopolysaccharides. These nutrients are found in the highest concentrations in sea weeds (marine algae) and sea water and in fact some are almost a complete food. These nutrients are critical to the proper functioning of our organs and necessary to produce healthy skin, hair and nails. It is from the sea garden that Algologie sources its active ingredients to develop products that revitalise the skin.
The four main active ingredients are sourced from extremophile plants selected for their ability to meet the vital needs of the 4 fundamental skin cells: Know as the Algo4
Protect – UNDARIA PINNATIFIDA – BROWN MACRO-ALGAE STEM CELLS
For the first time, researchers have been able to isolate the gametocytes of a brown seaweed with amazing properties and reproduce them using biotechnology.
Rich in fucoxanthin, it protects the natural youth of our cells.
Fucoxanthin, a kind of marine pro-Vitamin A, activates the skin cells' natural protection systems.
Global protection against free radicals for all the molecules of life, including DNA.
Oxygenate – PORPHYRIDIUM CRUENTUM – RED MICRO-ALGAE
This red micro-algae, rich in phycoerythrin and oligosaccharides, boosts micro-circulation and improves natural oxygenation.
It is the red blood cell of the sea that carries oxygen.
Stimulate – SEA FENNEL – PLANT STEM CELLS
Plant stem cells of crithmum maritimum are cultured to produce ultra-concentrated ingredients: 1 billion stem cells = 1g of active ingredients.
Rich in phenolic acid, a core component of polyphenols, this molecular booster stimulates all the skin cells and in particular the fibroblasts.
Increase in proteoglycans and dermal constituents.
– More collagen
– More elastin
Nourish – ALPINE SEA HOLLY – PLANT STEM CELLS
Rich in essential fatty acids, polysaccharides and amino acids, nutrients essential to cell life.
This veritable 'cellular feast' helps the skin produce its molecules of life:
– Lipids (intercellular bond, ceramides)
– Protein (collagen, elastin and keratin)
– Carbohydrates (hyaluronic acid)
Algo4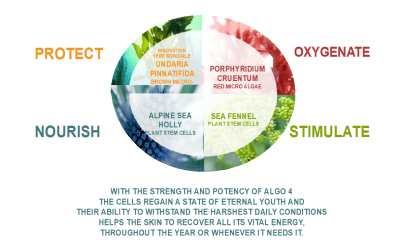 A product range to suit all your needs.
Algologie Detox & Clean – Rich in exclusive Algo3 Complex, the Detox & Clean range is the original classical and essential range. It rebalances, revitalises and remineralises the skin by meeting all its essential needs, leaving you with a fresh complexion.
Algo Essentials – The Exclusive Algo3 Complex – A powerful antioxidant complex integrated into most of Algologie ranges – based on the supply of minerals to improve cell functioning and fight against oxidative stress (the imbalance between oxidants and antioxidants). It meets three of the skin's fundamental needs: moisturises, remineralises and protects against free radicals.
Algologie Mat Plus – Suited to oily, acne prone and combination skin. The Algologie Mat Plus range will remove oil and shine, slow down the secretion of oil, help stop harmful bacteria and provide a matt finish. Skin is left feeling intensely purified and revitalised.
Algologie Sensi Plus – Recently improved to provide more effective protective and soothing properties for even the most sensitive skin. These formulas also assist in building up resistance to sensitive skin reactions and contain anti-pollution ingredients – a main cause of skin sensitivity and premature aging.
Algologie Hydra Plus – From the waters of the icy Gulf Stream, Algologie have extracted its powerful active hydrating ingredients. These natural and fresh formulas intensely hydrate the skin to assist you in achieving the best results from your skin care – younger looking, more beautiful skin.
Algologie Global anti-aging – Algologie's biotechnology can slow down and even reverse the skin's aging process. This range is suited to mature skin.
Algologie Rivage  – A combination of existing marine extracts and newly researched marine native cells work together to ensure skin vitality, restore firmness, youthfulness and radiance. The products are designed to act in synergy and obtain visible, fast and exceptional results. Facial contours are firmer, wrinkles reduced and an even complexion and radiance is restored.
Algologie Marine Garden Energy – An intensive facial treatment to be used when the skin feels overworked and tired or damaged by the environment or stress of today's lifestyle. This range helps the skin to recover its vital energy through better hydration and protection, resulting in replenished and radiant skin.